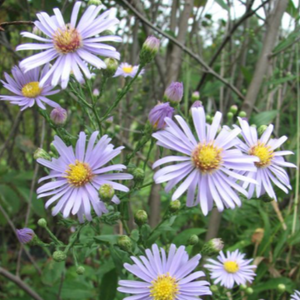 Sun: Full, Partial
Height: 2–4'
Moisture: Medium-Wet, Medium, Medium-Dry
Soil: Sandy loam, clay loam
Attracts: Pollinators, butterflies, birds
Resistant: Drought
Host Plant: Checkerspot & Pearl Crescent
The leaves on Smooth Blue Aster are indeed smooth to the touch. The similar-looking Sky Blue Aster (Symphyotrichum oolentangiense) has rough leaves, as do many other Asters. The rigid stem often takes on a shade of blue, allowing Smooth Blue Aster to stand tall during its long late summer to mid-fall bloom. A non-aggressive rhizomatous root system allows the plant to spread slowly. In a garden setting, Smooth Blue Aster will persist for many years.

The beautiful late-blooming flowers attract many different pollinators. Smooth Blue Aster is also a host plant for the Silvery Checkerspot and the Pearl Crescent butterflies.