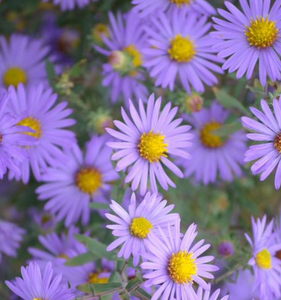 Sun: Full–Partial Shade
Height: 2'-3'
Moisture: Clay – Rocky
Soil: Sand, loam, clay
Bloom Time: Aug.–Nov.
Attracts: Pollinators, butterflies, moths, birds
Resistant: Drought

Aromatic Aster is one of the last Aster species to bloom in the fall. Enjoy blooms well into October, even into November in some parts of the US. The stiff stems will branch out slowly to create a bush-like appearance and will be completely covered in light purple flowers when blooming.  The flowers will turn reddish purple as they mature.  Despite the name, the flowers have no aroma, but the leaves do when crushed

Aromatic Aster has fibrous roots and spreads via rhizomes. Full sun and drier soils are preferred but average soil is tolerated if it drains well.  Another scientific name in use is Aster oblongifolius.